Tá' Sáhdi Da Askaní
(Lone Mesa)
P.O. Box 4416 Blue Gap, AZ 86520          ‡          Phone: (928)725-3700          ‡          Fax: (928)725-3703          ‡          Email: lowmountain@navajochapters.org
About Low Mountain Chapter 
The Low Mountain Chapter is situated at the northwestern edge of the Fort Defiance Agency. Low Mountain Chapter shares its Chapter land boundary with the Steamboat, Whippoorwill Springs, Jeddito, Tachee/Blue Gap and Tselani/Cottonwood Chapters, and also borders the Hopi Partitioned Lands. The Chapter area extends into both the Navajo and Apache Counties. Although Low Mountain Chapter is geographically in Ft. Defiance Agency, all programmatic services are administered under the Chinle Agency.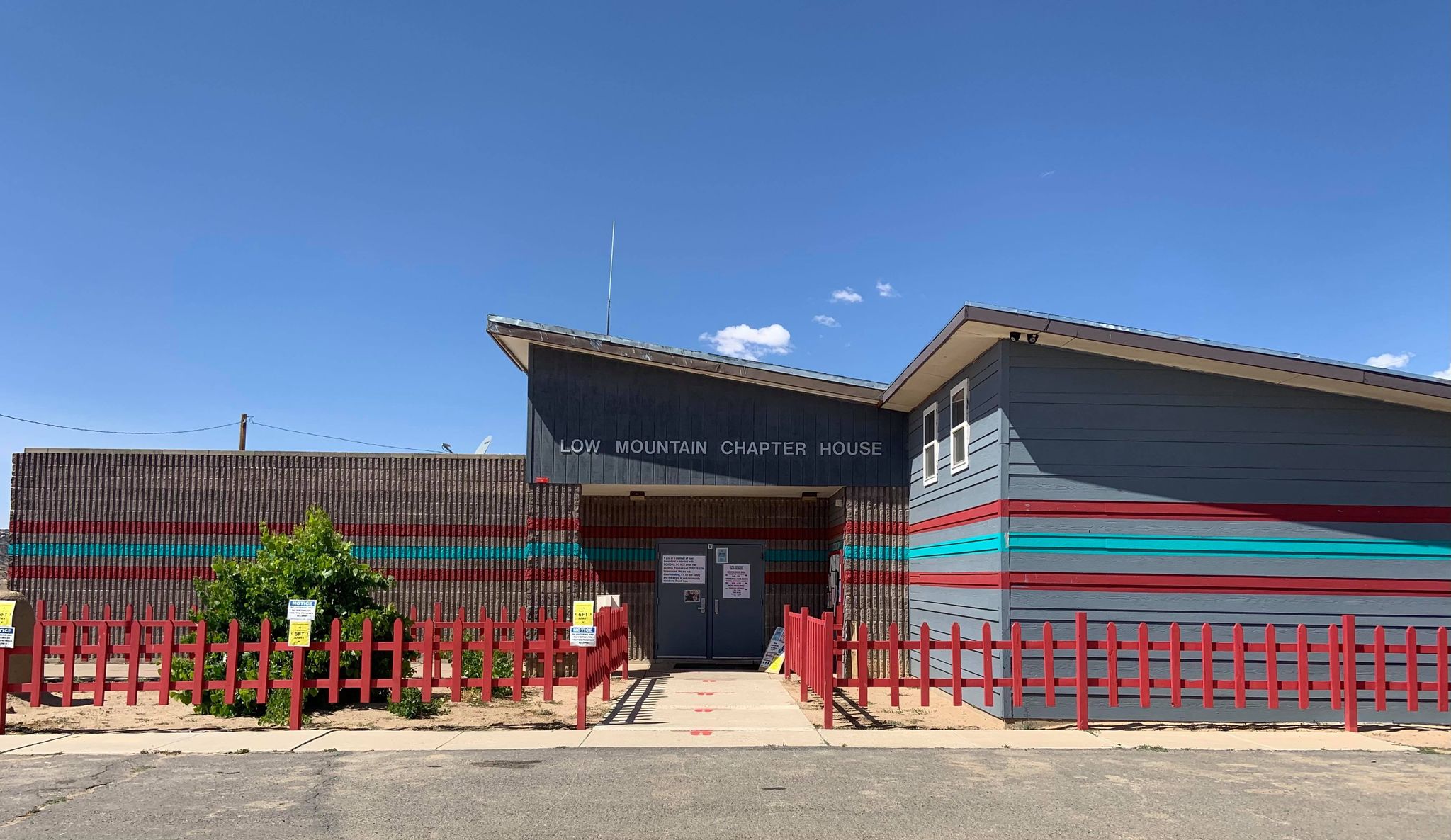 The chapter consists of a broad valley between two mesas. One known as "Low Mountain" in English — Ta' Sahdi' Da' Askani', or "Lone Mesa" in Navajo. Most of the top of the southern mesa, known as Jeeh Deez'ah ("Piñon Gum Point") in Navajo, was lost in the Navajo-Hopi Land Settlement Act of 1974. The Low Mountain Chapter lost a considerable portion of its land base to the Navajo-Hopi Land Settlement Act of 1974, resulting in most of the Low Mountain community members were force to relocate to New Lands, Arizona or Nahata Dziil (Near present day Sanders, AZ) or to Flagstaff. The Navajo-Hopi Land dispute and eventual land partitions have kept the Chapter and community from much needed development.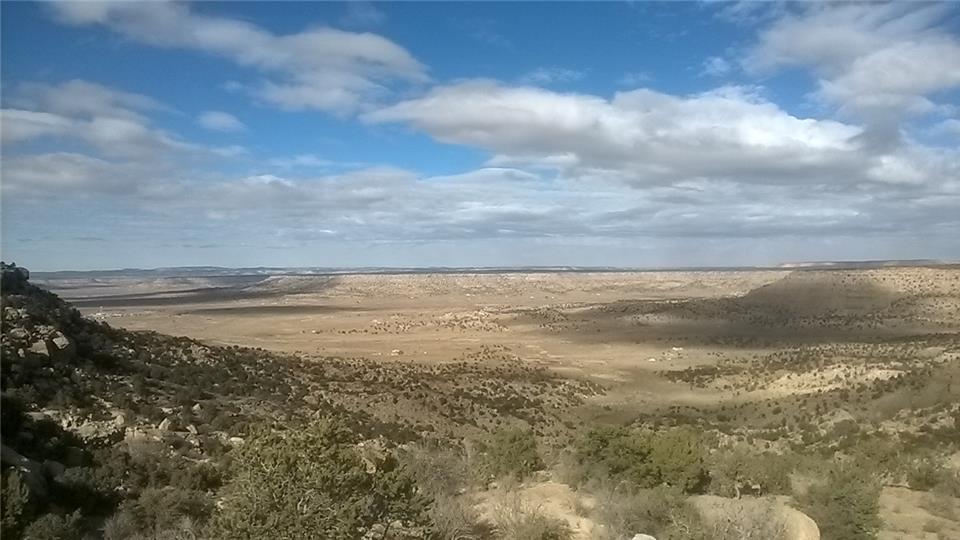 However today, the Low Mountain Community has The Low Mountain Chapter, Low Mountain Senior Center, Low Mountain Head Start, Jeeh Deez'a Elementary School (K-5th Grade), The Low Mountain Lil' Cougars Little League Team, Teacher Housing and a NHA Housing. Upcoming Projects will be coming soon in the near future, including, 3 Cell Phone Towers, a new Head Start Building, and a Multipurpose building. Though wounds are still fresh from the Navajo-Hopi Land Settlement, Low Mountain still moves forward to a brighter future.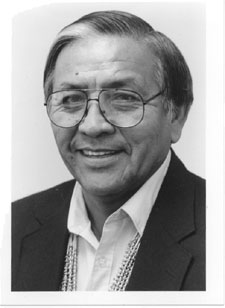 Peterson Zah, First Navajo Nation President
& Famous Son of Low Mountain
Services as of January 1, 2021
NOTE. Due to the Coronavirus Covid-19 Pandemic (Dikos Ntsaaígíí-19) some assistance, services, and rentals are either unavailable or limited. Sorry in advance for any inconvenience.
♦Trash/Solid Waste Services will be open Monday, Wednesday, and Friday, from 8 AM to 12 PM. Caretaker will be located at the Transfer Bin/Trash Bin. Please bring correct change. Stay in your vehicle. And wear your mask. 
♦Curbside Services are Tuesday and Thursday, from 9 AM to 1 PM. Curbside Services include Wood Hauling Permits, Coal Cards, giving out applications and other. Please don't come to the door. Honk your horn out front and we'll be with you as soon a possible, be patient.
♦If returning documentation or applications you can submit it into the LMC Dropbox, located outside the front Chapter doors. Dropbox is collected at 1 PM and 30 Minutes before staff leave for the day.
♦We no longer fax and print for community members. Residency Verification must be emailed, unless arrangements are made.
♦NTUA Wifi is available at the Chapter for students. If utilizing the internet, please request for a STUDENT PARKING PERMIT at the Chapter. You can honk outside and request one. This is to ensure that students have the best Wifi connection when doing academic activities. You can return your STUDENT PARKING PERMIT in the LMC Dropbox at the end of each week.
♦Staff are open to calls are during business hours. Monday, Wednesday and Friday business hours are 8 AM to 12 PM then 1 PM to 5 PM. And Tuesday and Thursday are 8 AM to 4 PM.
ANNOUNCEMENTS
LET YOUR FELLOW LOW MOUNTAIN FAMILY, FRIENDS , AND NEIGHBORS KNOW
◊For All Registered Senior Center Seniors There are food boxes available along w/ PPE for Registered Elders w/ Low Mountain Senior Center. Available Monday-Friday 8 Am to 4 PM.
◊April Chapter Planning Meeting is on Wednesday, April 7 , 2021 at 9  AM.
◊As of 3/31/21 The Trash/Transfer Bin is now open. Times will be the same, Monday, Wednesday and Friday from 8 AM to 12 PM. Please bring correct change. Wear a mask and stay in your vehicle. Thank You.
◊If you missed your chance to pick up your PPE you can pick them up during Curbside Service Hours, Tuesday and Thursday, from 8 AM to 1 PM.
◊Liquid hand sanitizer available at the Chapter House, provided by the CHR. Bring your own container. Keep it in it's liquid refills, not gel. Like water so a small spray bottle would be ideal. No water bottles.
April Meeting
aPRIL 11, 2021 @ 10 am
in the chapter parking lot
Please wear your mask and practice all COVID-19 precautions.
CLUP-C Regular Meeting
TBA
REGULAR & PLANNING Meeting
Reschedule REGULAR CHAPTER MEETING
April 21, 2021 @ 9 AM
MEET.GOOGLE.COM/UOS-KAQE-PYI
-OR-
Call 315-925-6654 Pin.523.294.754#